Professional And Experienced Chinese Lawyers
Yingke Law Firm is one of the largest law firms in China that offers comprehensive legal services to businesses both at home and abroad. Headquartered in Beijing, with 110+ offices across Mainland China and 158+ offices in major international cities worldwide, we are dedicated to providing seamless and excellent client services through our global capabilities.
Our team of international practice is comprised of highly experienced lawyers with education and practice backgrounds in countries including the United States, the United Kingdom, Germany, South Korea, Japan and Russia. As experts in the fast-growing global legal market. We are capable of providing legal services for both Chinese companies' overseas business and foreign companies' investment in China.
Professionalism is a core value of our firm. We actively engage with our clients, continuously refine our legal skills, and remain committed to delivering superior China law services that exceed their expectations by effectively resolving their legal issues.
Technology forms the cornerstone of our future strategy. Not only does it enhance productivity in long-distance communications and improve work efficiency, but it also plays a crucial role in case management, risk control, legal research, and fostering engagement between lawyers and clients.
We uphold the Rules of Professional Conduct, as adopted by the Chinese Lawyers' Association. We also adhere to attorneys' fiduciary responsibilities by responding to and maintaining reasonable contact with our clients. We ensure they are well-informed and provide a comprehensive explanation of crucial matters pertaining to their cases.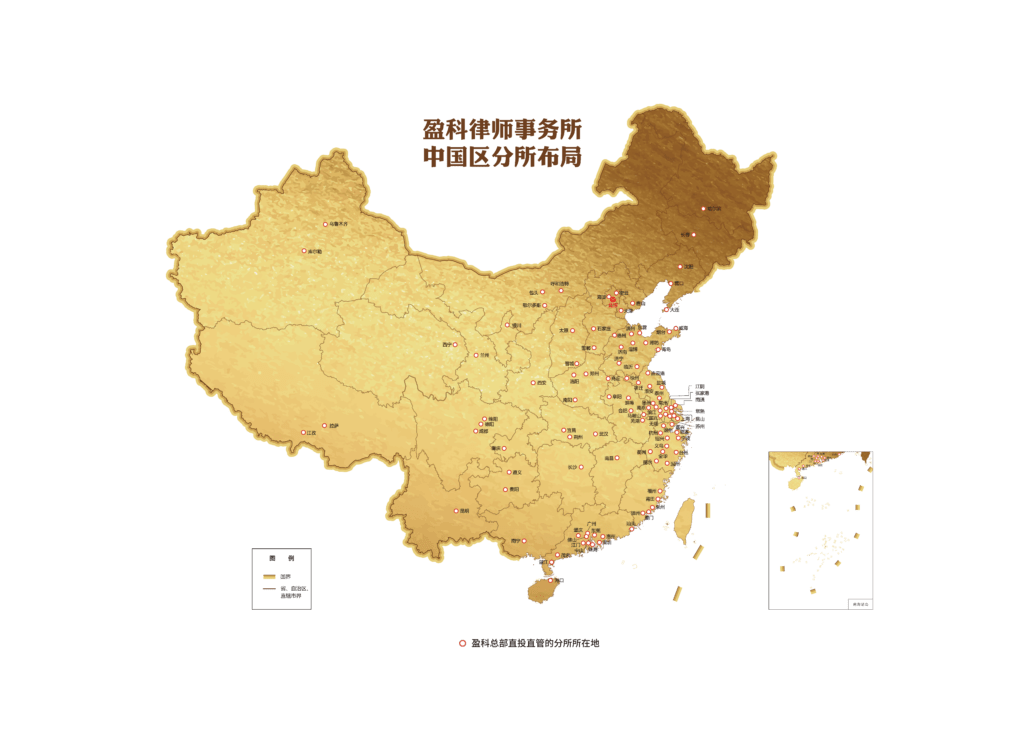 Yingke Law firm Offices in Mainland China
Beijing ,Shanghai ,Guangzhou ,Shenzhen ,Tianjin ,Changsha,
Shenyang ,Dalian ,Changchun ,Wuhan Jinan ,Qingdao,
Nanjing ,Suzhou ,Hangzhou ,Wuxi ,Ningbo ,Fuzhou,
Xiamen, Hefei ,Chengdu ,Kunming, Lhasa ,Foshan,
Nanning ,Guiyang ,Quanzhou ,Zhengzhou, Taiyuan, Yinchuan,
Nanchang ,Wenzhou ,Dongguan ,Zhuhai Xi'an, Chongqing,
Shijiazhuang, Hohhot, Urumqi ,Harbin,Jincheng ,Haikou ,Jinhua,
Jingzhou Xuzhou Mianyang ,Koerle ,Changzhou ,Huizhou 
Nantong ,Cixi ,Shaoxing,Yangzhou ,Jiaxing ,Lianyungang ,
Yantai ,Kunshan, Zibo,Lanzhou ,Jiangyin, Yancheng ,Weihai ,
Taizhou, Yichang,Jining, Xining ,Suqian ,Wuhu ,Dongying, Yiwu,
Linyi ,Lishui ,Quzhou ,Maanshan ,Weifang ,Huaian,Deyang ,
Zhongshan ,Eerduosi ,Jiangmen
Yingke Law firm Offices Abroad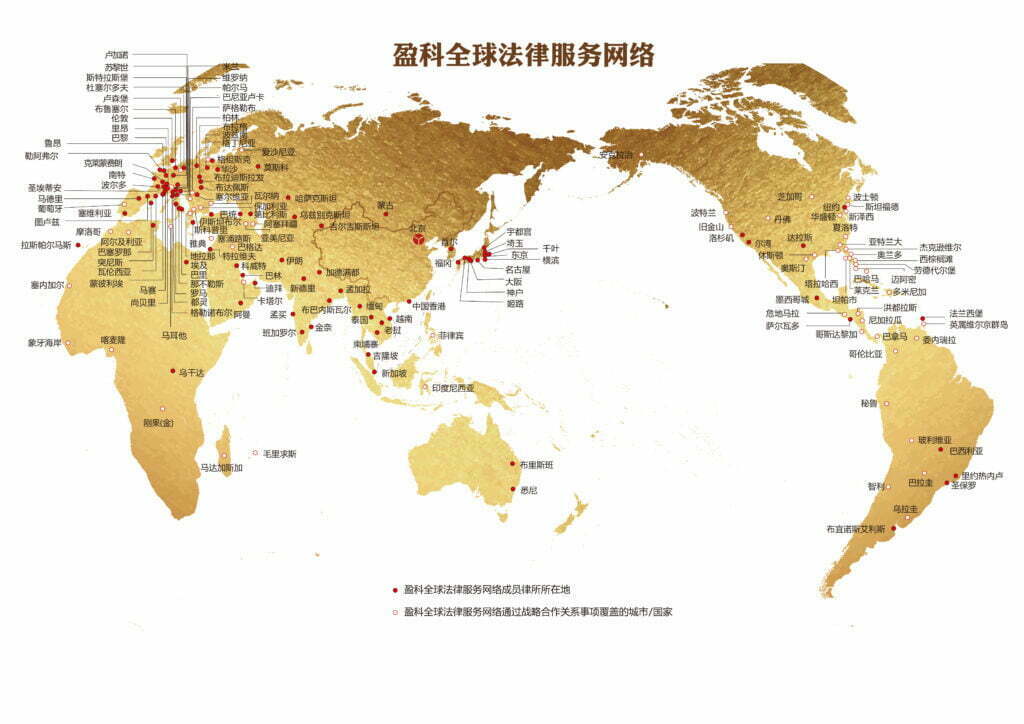 Every award signifies acknowledgment from our clients and industry peers, serving as a significant source of motivation for every Yingke lawyer.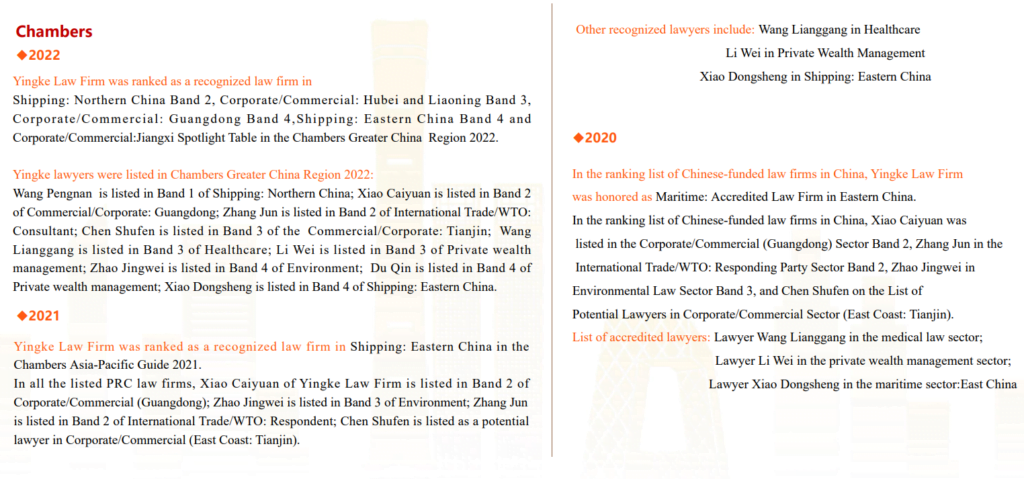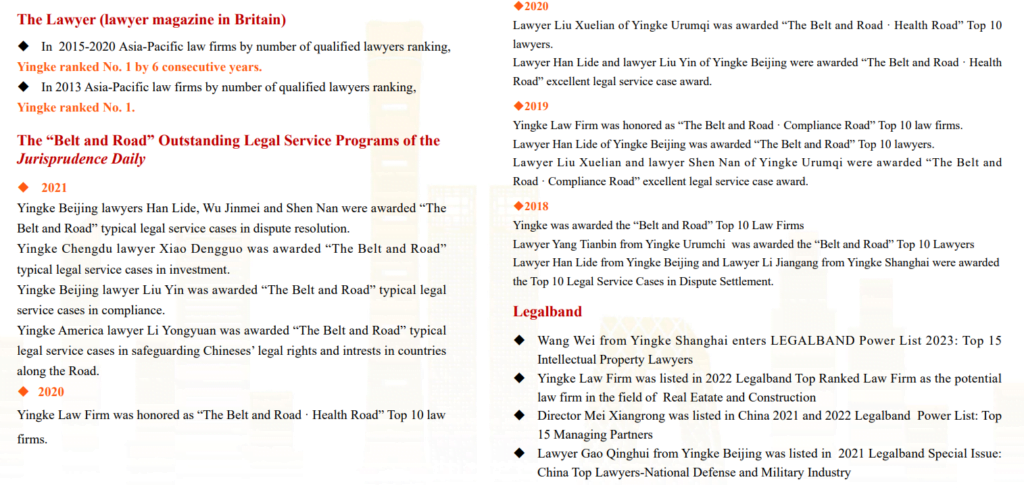 With a client-centered approach, Yingke consistently prioritizes customer needs, viewing customer satisfaction as the ultimate goal. Below is a selection of clients our firm has collaborated with.